Box+Dice
Connecting your Box+Dice account
By connecting your Box+Dice account to Lexer, you will be able to update Contacts in Box+Dice with enriched data from the Lexer CDP, create and sync Contact Categories, and make Tasks for your Agents to complete.
How to integrate your Box+Dice account
You will need to navigate to MANAGE > INTEGRATIONS to find the Box+Dice integration tile.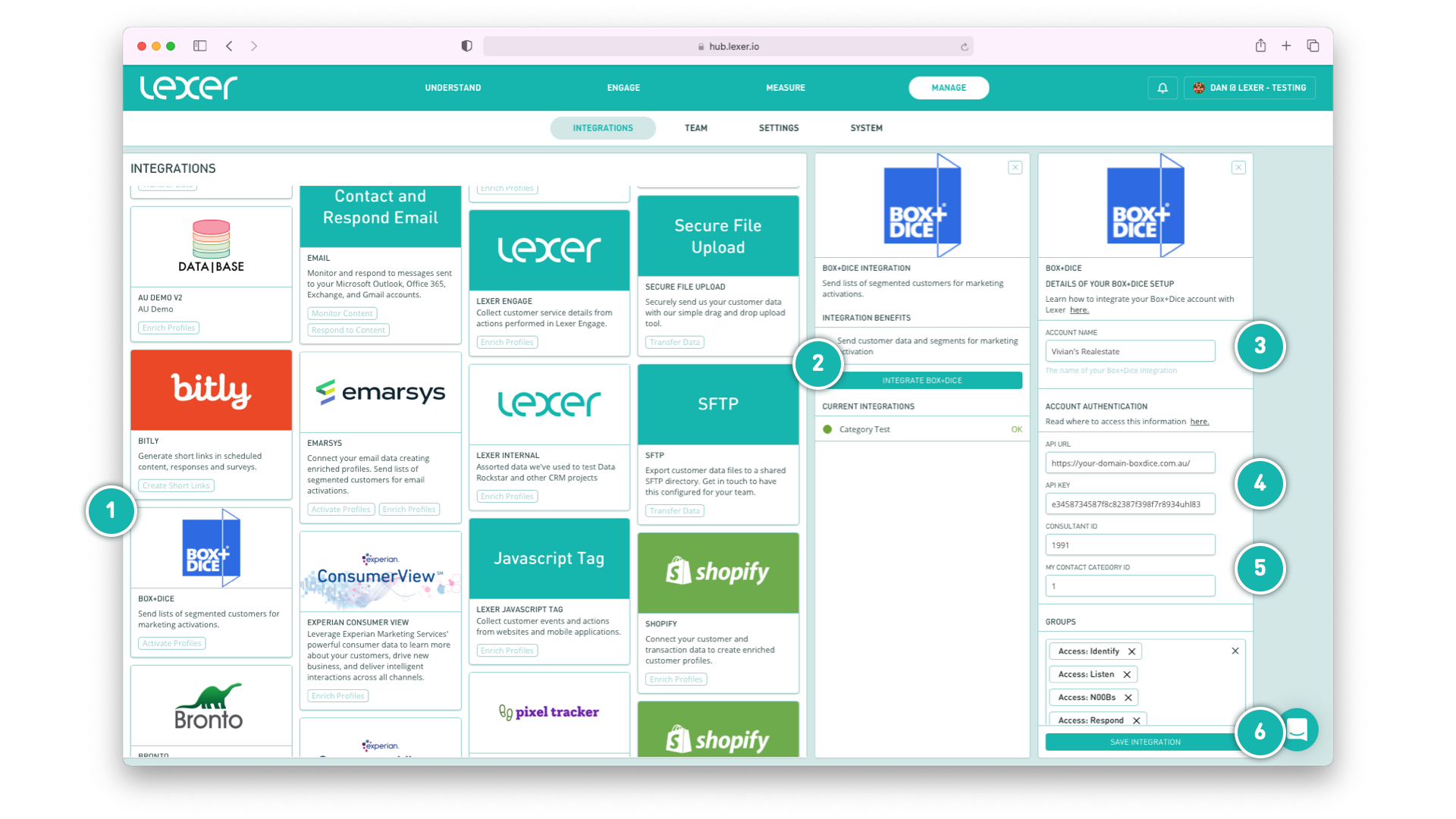 Click on the Box+Dice tile
Click INTEGRATE BOX+DICE
Add your account name, we recommend the name of your business
Add your account's unique API URL and API KEY

You can read about generating these here

Add a unique CONSULTANT ID and MY CONTACT CATEGORY ID

The Consultant ID will determine who owns a newly created contact, or task. We recommend making a new Consultant called "Lexer"
The My Contact Category ID will ensure Contacts within Box+Dice aren't reassigned from their existing Agents (Consultants)

Click SAVE INTEGRATION
Send and maintain Contact Categories in Box+Dice
Within Box+Dice, categories are used to group Contacts together and segment your database. One Contact may have multiple Categories against multiple Consultants.
With Lexer Activate, you can sync and maintain your Lexer Segments in Box+Dice as Contact Categories.
This allows your agents to better understand the prospects they are contacting. For example, you might have three key segments; Hot Prospects, Underbidder, Buyer in Hawthorn >$3.5m.
By maintaining these Segments as Categories in Box+Dice you can provision your agents with additional context for their communications.
You will first need to build these Segments, in Segment. Then navigate to ENGAGE > ACTIVATE.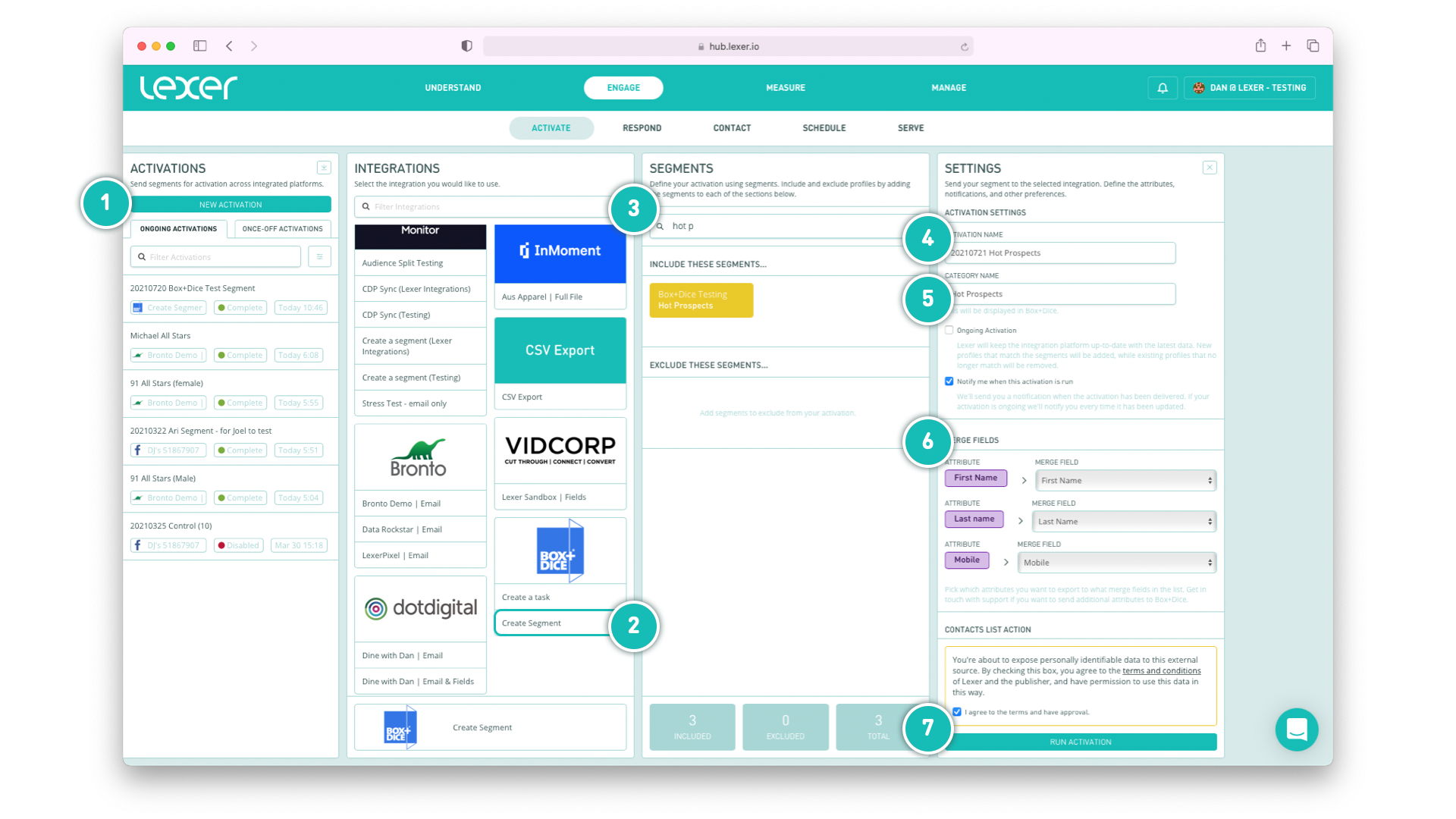 Click NEW ACTIVATION
Select CREATE SEGMENT from under the Box+Dice tile
Find the Segment you want to sync with Box+Dice (you may only sync one Segment with each activation)
Name your Activation, this will only be reflected in Lexer and must be unique
Title your category, what you write in this field will become the Category in Box+Dice

By default, it will mimic the name of your chosen Segment

Map each attribute to its dedicated field in Box+Dice

As a minimum, Box+Dice requires a First Name, Last Name, and Mobile Number to create new categories
Once a First & Last name is set in Box+Dice, it can only be changed in Box+Dice

Click RUN ACTIVATION
Creating new Tasks in Box+Dice
Box+Dice's Tasks feature can be used to guide agents to contact the right prospect at the right time. From Lexer Activate you can create tasks in bulk, and have them automatically assigned to the correct Agent, within Box+Dice.
For example, on Monday morning after a busy week of activity, you want to ensure all Hot Prospects are contacted. You can create a task for your Agents to follow up with each of those prospects right from Lexer Activate.
First, you'll need to define your Segment(s) in Segment. Then navigate to ENGAGE > ACTIVATE.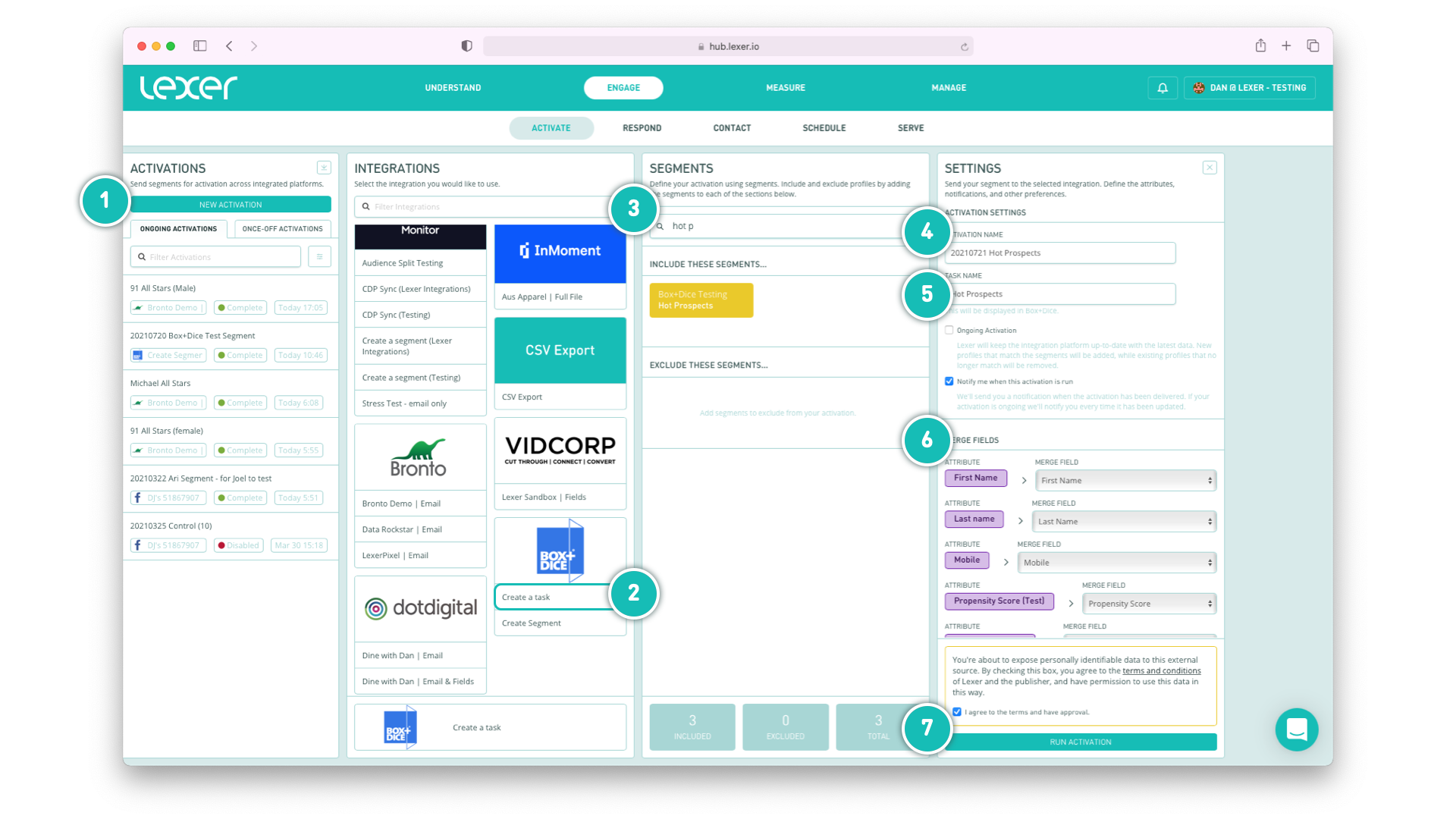 Click NEW ACTIVATION
Find the Box+Dice tile and click the Create a task option
Add your segment of Hot Prospects
Name your Activation, this will only be reflected in Lexer and must be unique
Here you can define how the Task will be named

The task name will automatically append a Contact's propensity score and first name to the task description

Map each attribute to its dedicated field in Box+Dice

As a minimum, Box+Dice requires a First Name, Last Name, Mobile Number, and Propensity Score to create new tasks
Tasks can be sorted in descending order, by mapping an attribute to the "Sort by" field. In most cases, just map Propensity Score.

Click RUN ACTIVATION