Guide to using Activate
Send audiences to all your marketing and advertising channels
Activate helps you to connect audiences to all your marketing and advertising channels seamlessly, securely, and in real-time - allowing for highly measurable campaigns. Activate is your one stop shop for sending audiences to Facebook, Twitter, Google, email, and beyond.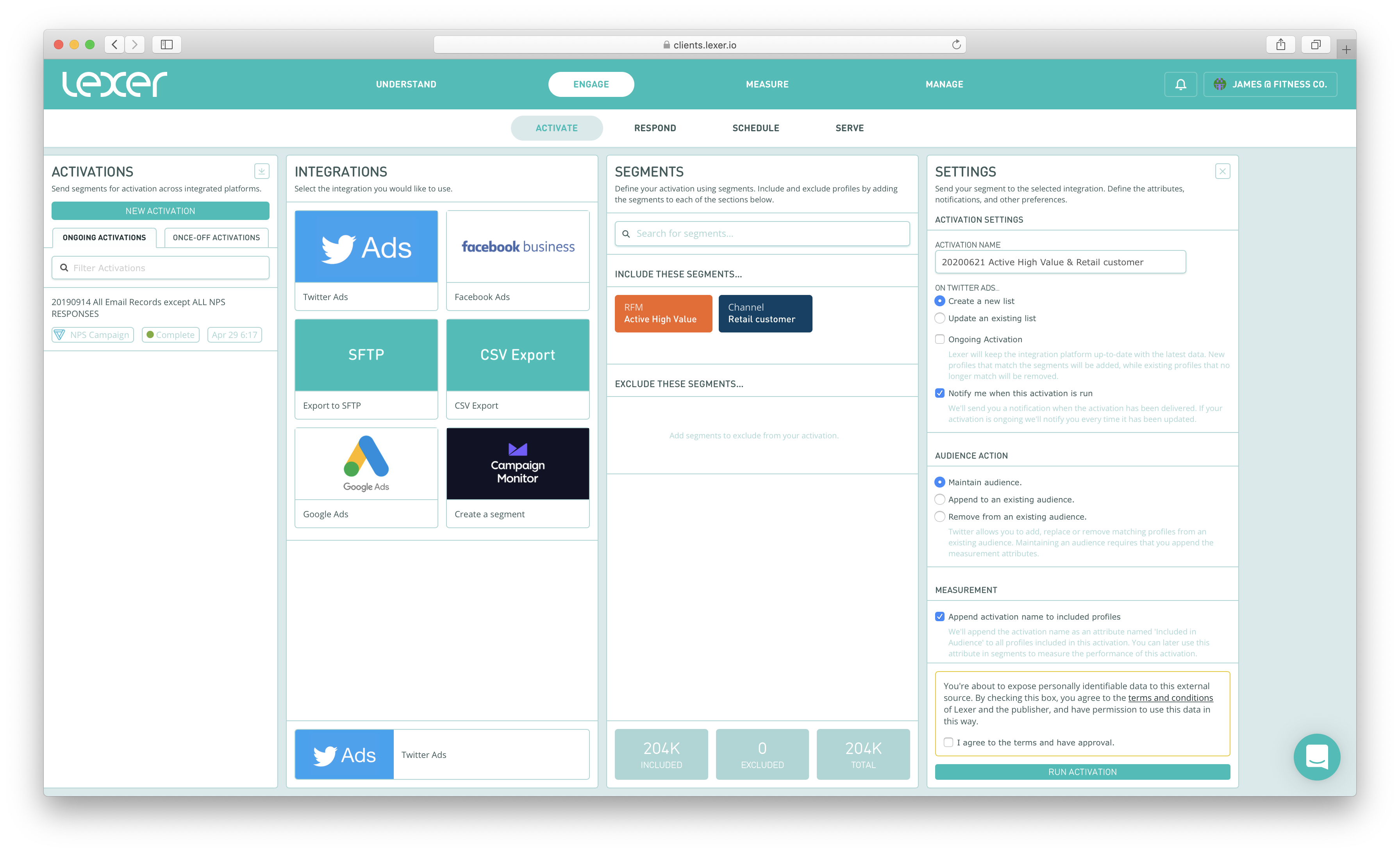 Activating an audience
Select your channel
Click Activate New Audience to get started.
We begin the workflow by selecting the integrated channel to deliver your audience to. Each of your activation accounts are grouped by their channel, and can be selected by clicking their name.
Define your audience
Your audience is defined by segments. This step allows you to add in one or more tribes as inclusions or exclusions for your audience. For example, you could decide to include 'All Customers', and exclude the tribe 'Recently Purchased Products' and 'Opted Out' to define an audience of people you want to target for a new product launch. The summary stats at the bottom will illustrate the final audience count.
Configure your audience
Now, we have a few additional options to select, before we send our audience.
Define the name of your audience, which will be used in your integrated account i.e. your Facebook audience will have this same name.
Next, we can choose to create a new audience, or append this group of customers to an audience we already have configured.
Auto-updating your activation allows you to keep this audience updated, by adding and removing customers as they enter or leave your defined tribes. This is super valuable for maintaining your BAU audiences in channels like Facebook, and can save you heaps of time!
Notifications can be turned on for each activation, sending an email to you (the person creating the audience) when the audience has either successfully, or unsuccessfully, finished sending from Lexer.
Appending measurement attributes to your audience is the final, and maybe most valuable, configuration option you can enable. Leaving this checked will add three new attributes to your audience, indicating which audience name, account name and channel they have been sent to. We strongly suggest leaving this enabled!
Activation Status
Once you've clicked "Run Activation", the status of your activation will update as it progresses:
New - your audience has been submitted, and is waiting to send
Running - your audience is in the process of sending to your chosen integrated account
Completed - your audience has successfully been sent from Lexer to its destination
Are you seeing a different status, or error? Check out our Troubleshooting guide to find out more.