Salesforce Marketing Cloud
Connect your Salesforce Marketing Cloud account with Lexer
You can connect your Salesforce Marketing Cloud account with Lexer, to import your customer data and create enriched identity profiles. This will also allow you to activate Segments for email marketing campaigns.
What about ExactTarget?
ExactTarget was an email marketing platform acquired by Salesforce in 2013, and rebranded to Salesforce Marketing Cloud. Throughout Lexer, we'll always refer to Salesforce Marketing Cloud (SFMC) but know that the names "Salesforce Marketing Cloud" and "ExactTarget" refer to the same product.
Benefits of a Salesforce Marketing Cloud integration
Import your contacts as enriched Profiles
Send audiences for targeted marketing campaigns
Sync data between your Lexer CDP and Salesforce Marketing Cloud
API Access
Before we can connect the two accounts, you'll need to provide Lexer access to your Salesforce Marketing Cloud account. We can achieve this by creating a Salesforce Marketing Cloud application. Please note, if your Salesforce Marketing Cloud account contains more than one brand, you will need to create an "Installed Package" for each brand.
Log in to your Salesforce Marketing Cloud account
Click your name in the top right hand corner, and select Setup
On the left hand side screen, find Platform Tools and click on Apps and then Installed Packages
Now make a new package by clicking New in the top right hand corner of screen. Name this Lexer: [Brand name].
Click Add Component
Select API Integration and click Next
Select Server-to-Server
Enable "Read" and "Write" permissions for the following;

Email
SMS
Audiences
List and Subscribers
Marketing Cloud Connect
Data Extensions
Campaign

Click Save
You will now see a summary page with a Components section. This section lists your Client ID and Client Secret settings, which we'll need to paste securely into Lexer as detailed below.
Once you've configured the components, navigate to Access and select only the brand you'd like this "Installed Package" to be used for.
How do I integrate my account?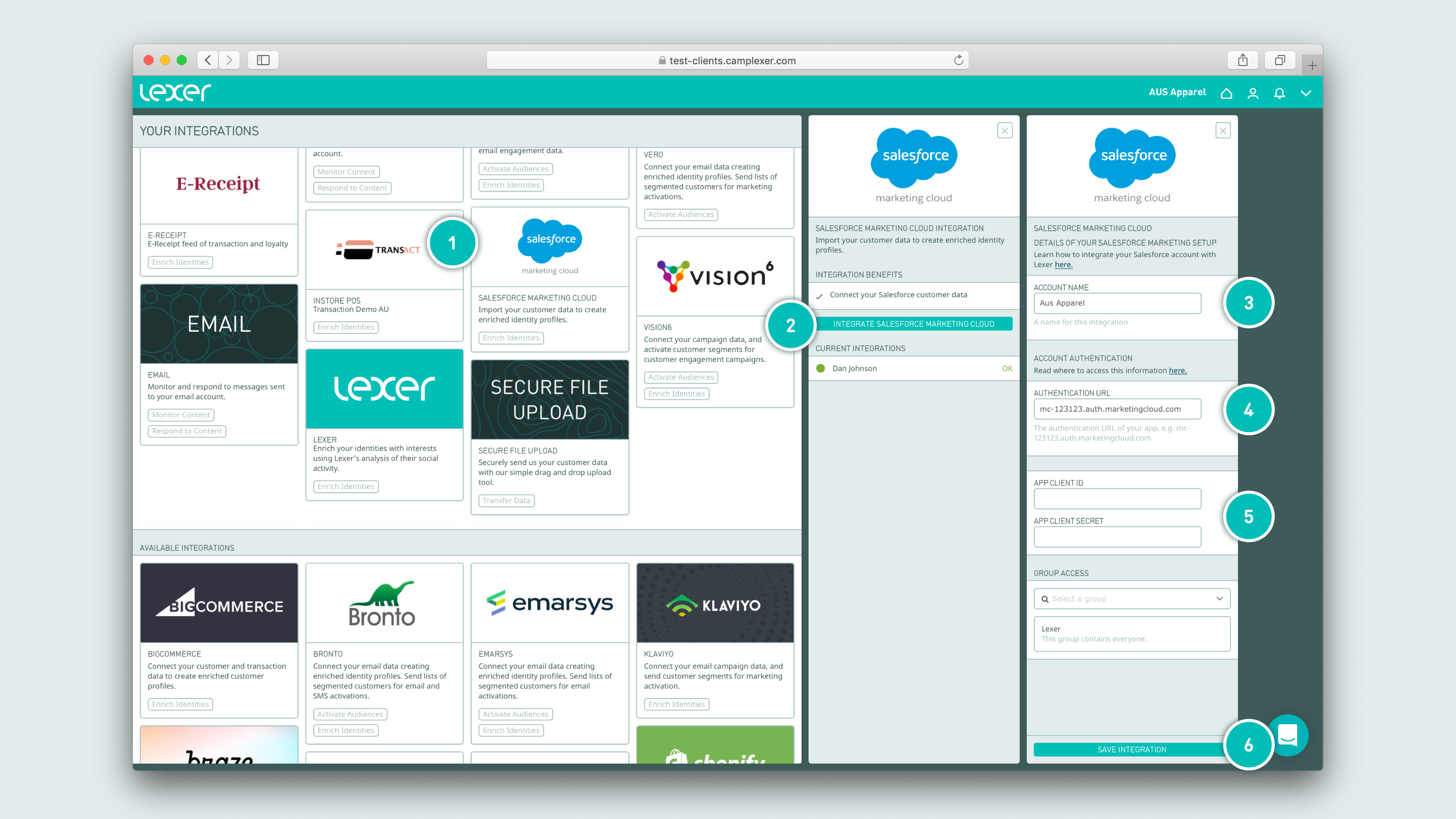 Select the Salesforce Marketing Cloud tile
Click Integrate Salesforce Marketing Cloud
Enter your Salesforce account name (this could be your brand, or sub-brand name)
Paste in your Base Authentication URI
Paste in your Client ID and Client Secret generated from making your Installed Package
Click Save
Sending data to Salesforce Marketing Cloud
This article will guide you in activating Segments from Lexer to Salesforce Marketing Cloud (formerly ExactTarget). The activation allows you to create and update existing lists, update existing Data Extensions, and enrich your customer contact data in Salesforce Marketing Cloud.
Before you get started, make sure you've done the following:
Created an activation to Salesforce Marketing Cloud (reach out to Lexer Support if not)
Lists, Data Extensions and All Subscribers
Salesforce Marketing Cloud allows you to target both Lists of customers, and Data Extensions containing customer data. What's important to understand is both of these are fed from a catch-all "list" All Subscribers.
It's important to note that while the All Subscribers List is referred to as a List, it is not limited to the 500,000 contact limit as normal lists are. If your team uses Data Extensions to target customers, we recommend only activating to the List - All Subscribers option in Activate. This will allow you to add new contacts to your Salesforce account, without interrupting the flow of data through your Data Extensions.
Lists
A List is a group of your customers. You can create an unlimited number of Lists depending on the number of customer segments you require.
Lists can:
Contain a maximum of 500,000 contacts
Take longer to update than a Data Extension
Data Extensions
A data extension is a table within your Salesforce database containing your data, think of it like a dynamic list that can automatically update based on rules (just like a Segment in Lexer Segment). You can use data extensions to store sendable subscriber data - like lists, or to hold relational data. If you activate directly to a data extension, any contacts you add that don't match the rule conditions of the data extension could be removed when it next syncs with your All Subscribers list.
Data extensions can:
Hold more than 500,000 contacts
Import faster than updating Lists
Permit you to setup triggered email sends
Syncing your data with Salesforce Marketing Cloud
Whether you use Lists or Data Extensions, you will likely want to ensure the data within your Lexer CDP is synced with Salesforce Marketing Cloud. To do this, we want to send our Segment to List – All Subscribers. We recommend using a Segment containing all Profiles, setting it to auto-update, and letting it run automatically indefinitely.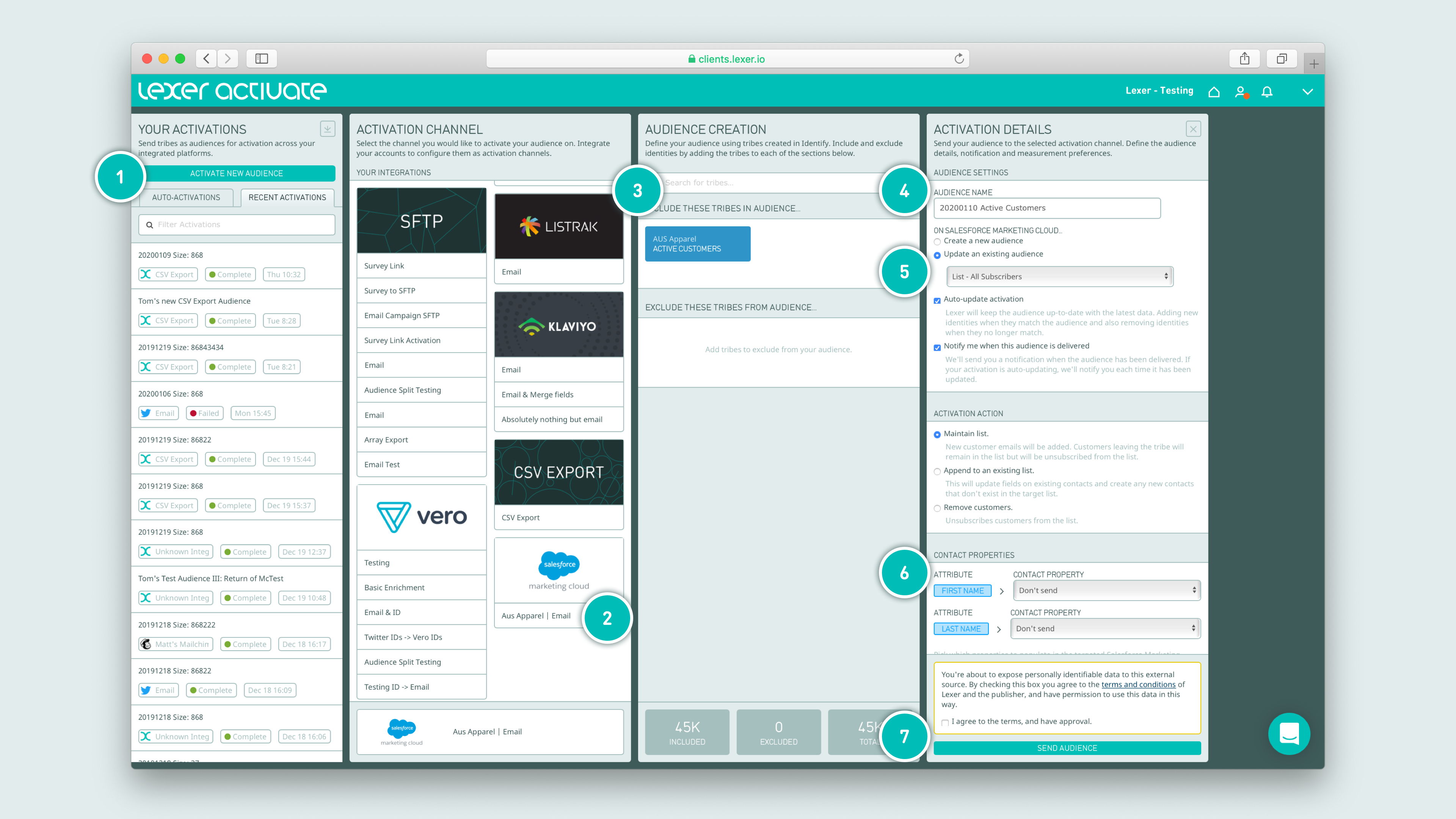 Click ACTIVATE NEW AUDIENCE to get started
Select your Salesforce Marketing Cloud activation tile
Add your "Customer Universe" Segment (containing all your customer records)
Update the audience name as required (this won't appear in Salesforce)
Set your activation to Update an existing audience it should default to List - All Subscribers
Set which Contact Properties you'd like to sync, ensuring you map each ATTRIBUTE to it's correct Property
Agree to terms, and click Send Audience
Please be aware, it could take up to 5 minutes for your audiences in Salesforce to populate in Lexer Activate. We have found in testing most Salesforce accounts will have over 2000 lists and data extensions. To improve this load time, we recommend deleting any unnecessary lists or data extensions in your Salesforce Marketing Cloud account.
Creating a new List
We also support creating a new List which can be used for one-off campaigns or similar.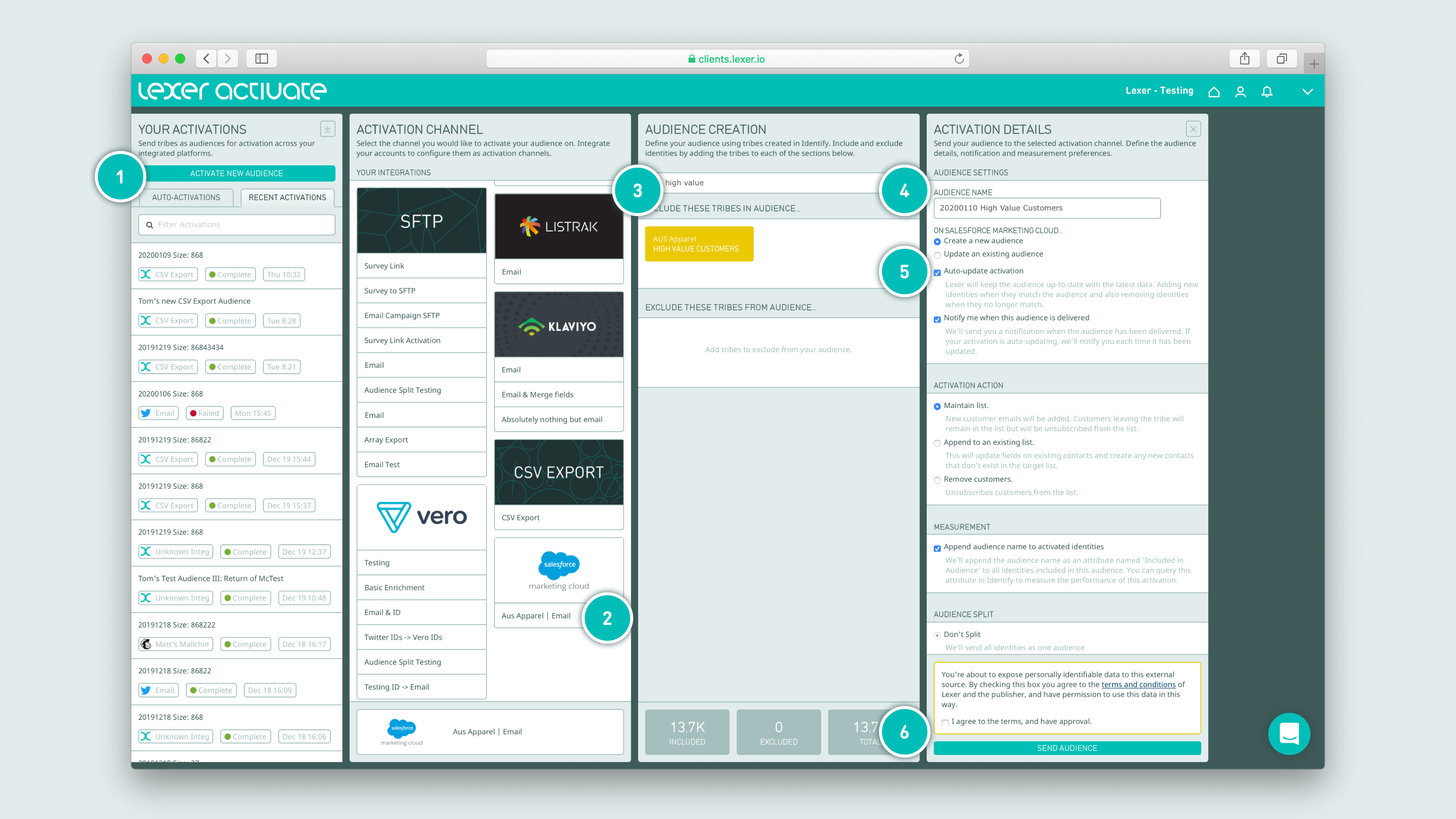 Click ACTIVATE NEW AUDIENCE to get started
Select your Salesforce Marketing Cloud activation tile
Add your one-off campaign Segment
Update the audience name (this will become the List's name)
Select Auto-update activation if maintaining this list is important
Agree to terms, and click SEND AUDIENCE
Set and forget – auto-updating audiences
Lexer Activate permits you to automatically update your lists and contacts within Salesforce Marketing Cloud. With this selected, Lexer will add or remove customers from your List or Data Extension, as customers enter and leave your Segment.
Okay I've sent my audience, what next?
The moment your activation has been confirmed as sent in Activate, you'll see records begin to update in Salesforce Marketing Cloud. We'll send you an email to let you know once an audience has been sent – the time this takes will vary, depending on the size of the audience.
Sending an email with Salesforce Marketing Cloud and Email Studio
Salesforce have heaps of documentation around their Email Studio platform, you can check out those materials here.